July 2, 2020
For the party pooper who hates getting their picture taken… GET OVER IT! Okay, that's a little harsh. But we had to get your attention some how! 😉
Listen, if you hate being in front of the camera and taking professional photos has you feelin' like…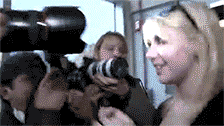 You are not alone!
We even feel awkward when we're taking our family photos. We totally get it! Having two big fancy cameras pointed in your face is intimidating, especially if you're an introvert or self-conscious.
But here's the thing… your engagement and wedding photos will only happen once in your lifetime! ONCE!
So when that dreaded camera is pointed in your face, here's how we can help you AND how you can help us capture some really beautiful photos. Together, we can document so many precious memories and have fun doing it, too!
***
Here's what you can do:
Pretend We Aren't There
Be consumed in the love of your life! We're there to capture your love anyway. Of course, don't ignore us completely, but get in the moment with your boo and soak up the time you're spending together.
If that doesn't work, just imagine us in our underwear. At least then we'll get a genuine laugh (or maybe a look of disgust 😂).
Make It a Date Night
Get all dolled up, get your photos taken, and then do something fun! Go out to eat, see a movie, go dancing! Make it a day you know you'll look forward to.
As for the wedding day itself, you're getting married!! There's nothing much more exciting than that! Usually there's this beautiful euphoric feeling after the ceremony. It's this amazing "we're married!" high. So hopefully you won't need an excuse to snuggle and kiss all over your boo.
We also always recommend sunset photos on your wedding day. By the time sunset arrives, you've usually had a couple drinks and you're in celebration mode. We only need 20 minutes! And you'll NEVER regret taking sunset photos! When you get your gallery, believe us, you'll be so glad you decided to do them. 👇🏼
Do It for Your Boo
If all else fails, remember who you're doing it for. Remember what it's all about. We're here to celebrate YOU and your beautiful love.
So above all else, be a good sport for your significant other. You know this is important to them. So make it stress free! Try not to complain or make a big deal about the engagement session or your wedding day photos. It could ruin the mood for the session itself. And then all you will remember when you look back over your photos is how frustrated you were with each other. No bueno!
If All Else Fails… Have a Stiff One
Seriously though, sometimes it takes a little liquid courage. And that's aye okay by us! We've met up with couples before their session to enjoy an adult beverage and just chat to get to know one another. This helps everyone loosen up. Plus, photos aren't so intimidating when they're taken amongst friends. 🙂 Or you can bring it as a "prop" and we can have some fun with it! 👇🏼
***
Here's what we do:
We play music to loosen the nerves. We get to know YOU! We ask you to interact and just live in the moment with each other. If you want to know in detail what to expect during a typical session with us, read more here.
We are so excited for you and this beautiful journey you're going on! Now let's get you beautiful photos to remember it by.
By the way, this is us. 👇🏼 See, we're totally harmless! And we love to have fun!